Invention
Car Breakdown banner
This innovative invention is a warning tarpaulin for the boot lid for additional protection in the event of a breakdown or at the scene of an accident.

This makes the accident site clearly visible from a distance and easy to attach.

Short description of the invention
The car breakdown banner is attached above the boot lid or on the open boot lid if required.

The eye-catching and reflective tarpaulin features a red triangle and a warning text and also has translucent reflective foil areas over the vehicle's own lighting elements (tail light, hazard warning lights).
Due to its size and eye-catching colouring, the breakdown banner is a perfect supplement to the legally required warning triangle.
The attachment is ensured, for example, by sewn-in magnets that adhere to the vehicle surface or by rubber bands and hooks that are fastened in vehicle gaps and in the wheel spokes. In addition, weights in the lower edge of the banner contribute to stabilisation and optimal position.

Advantages of the invention
Benefits
Car Breakdown Banner as an advertising media
The car breakdown banner can be used universally on all types of vehicles for better or additional protection in the event of an accident or breakdown, regardless of whether it is used privately or by professional emergency services. Low technical effort and maximum effect also make the breakdown banner interesting as an advertising medium (e.g. for roadside assistance or road construction companies).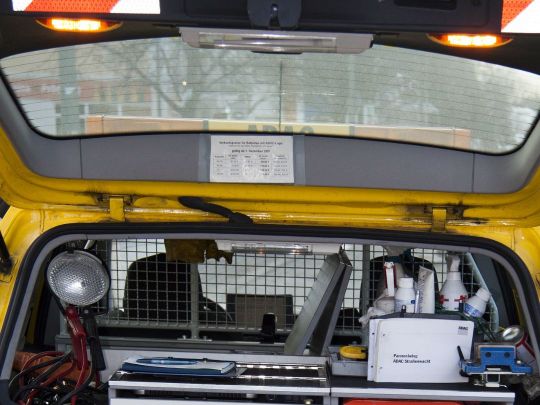 Property rights
utility model protection
Type of protection:  GER utility model
Registration number: DE 20 2014 005 286 U1
Date of registration: 26.06.2014
Main claim:
1. warning tarpaulin for securing a breakdown/accident site, characterised by a reflective material.
2. warning tarpaulin according to protection claim 1, characterised by the attachment to or on the boot lid of a vehicle. 
3. warning tarpaulin according to protection claim 1 and 2, characterised by the optional attachment to the open boot lid.
4. warning tarpaulin according to protection claim 1, 2 and 3, characterised by translucent reflective foil areas over flashing sign system. 
ARE THERE ANY OPEN QUESTIONS?
DO YOU REQUIRE FURTHER INFORMATION?
We would be happy to provide you additional information material or clarify open questions with the inventor for you. Simply contact us and we will be happy to support you.

Contact us
JMW INNOVATION GMBH
jmw Innovation GmbH has been successfully implementing and marketing ideas at two locations (Salzburg/ Berlin) for over 20 years. Thanks to our many years of networking, our passion for new ideas and our experienced employees, we are THE first point of contact for new ideas in the German-speaking world.

Website
www.erfinderberatung.com
© 2022 All rights reserved.